Welcome!

Modem related problems are the biggest source of trouble for many PC computer users.

Modemsite has extensive information on dial-up modems, and can help you troubleshoot and correct problems from installation to disconnections.

Modemsite began over 7 years ago as 3 pages I called 56k=v.Unreliable. Today, there's over 400 pages of modem information - publishing the site has become my full-time job. You can view the entire site ad-free with a Premium Access Subscription. Most of the site is also available "free" with advertising.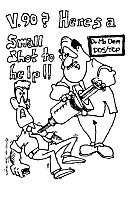 Dr. Mo Dem ©James Douglas
Modemsite.com is written and maintained by 'v.Richard'