You will be prompted in the next boxes (not displayed) to type the name of your ISP (this will be the name of your connectoid), and the phone number for your ISP.

The phone number you enter here may not actually be the number that will be dialed depending upon the location and dialing rules (first screenshot on page)

Then, you will enter your Username (as specified by your ISP - some ISPs require your @isp.name, others do not) and Password.

You can leave USERNAME & PASSWORD blank, and you'll need to enter them each time the connection is used, or if you enter them here, and the first check box (Use this account name and password...) is checked, the connection will be dialed with specified username and password.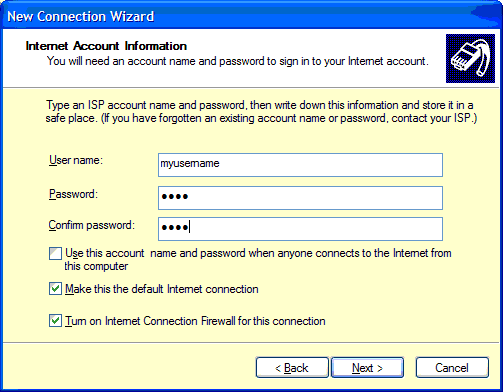 You can Make this the default Internet connection, and turn on the XP Internet Connection Firewall.

All of these options can be changed once the wizard finishes by Editing the Connectoid.
A checkbox allows you to place a shortcut automatically to this connection on your desktop.
However, once created, to edit the connection, you'll need to go back to the Network Connections.